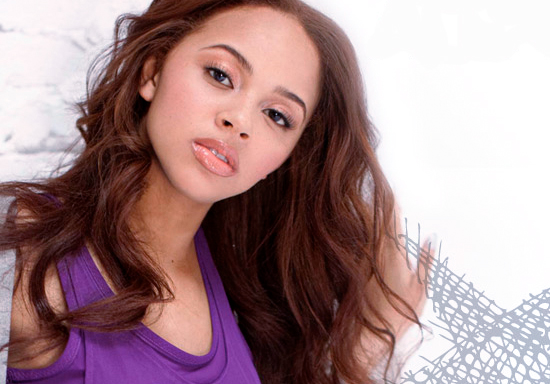 With all of the stars that fill our sky, there are very few that shine as bright as Star Roc / Roc Nation's newest signee, Alexis Jordan. With flowing red hair, just as vibrant as her personality, 18 year old Alexis possesses an emotive, awe-inspiring voice that is packed with a power strong enough to brighten our entire world. "I only sing songs that are from my heart," says the compassionate young woman whose music promotes positivity and self-respect. "Because if I can't feel it, it's not going to come out right.
"The moment Alexis walked into our studio we just got that special feeling," says Tor of the hit making production team, Stargate. "It was a Blink-moment, 'This girl´s got it, let´s make a record'." We didn´t know the depths of Alexis at the time, but as we were making the record it became clear to us that not only is she a world class singer, but she is a smart, confident all round entertainer with a big future. Alexis picks records, goes through lyrics, analyzes her every performance. We feel like we found a diamond in the rough. Only it´s not so rough anymore!"
Born in Columbia, South Carolina, Alexis embodies the new spirit of America with her rich cultural background that includes her father's Puerto Rican heritage and her mother's African American, Native American and European ancestry. At 11, Alexis moved with her parents and three younger siblings to Santa Clarita, California to pursue a career in the arts. After performing the National Anthem at the local Air Force Academy, the extremely talented, young singing phenomenon started to attract a ton of attention. Soon, she was asked to sing at the start of various professional baseball games, which quickly gave way to bigger and better opportunities.
"When I was 12, I opened up for Smokey Robinson at a Stevie Wonder tribute," remembers Alexis. "I sang 'Ribbon In The Sky' and Stevie was backstage like, 'You didn't think I heard you singing my song did you?' I didn't know how big of a legend he was but looking back on it now, I can't believe that I did that! It was such a great experience."
While she continued to sing at high profile events around the country, Alexis spent the next few years in school, working as a professional actor, appearing on soap operas and commercials. At 14, she entered the Simon Cowell produced T.V. competition, America's Got Talent and made it all the way to the semi finals thanks in part to a thrilling performance of Whitney Houston's "I Have Nothing."
"When I got off stage after singing 'I Have Nothing' Simon said, 'You are an amazing singer,'" says Alexis. "At the time I was crying, like oh my gosh, Simon Cowell! It's a little girl's dream to be singing for him so I was just so overwhelmed."
With sharpened performance skills and more confidence than ever the family travelled to Atlanta for its burgeoning music scene and hotbed of talented producers. Alexis began making youtube videos in between professional appearances. Although it would be these same online clips that would eventually land her the recording deal she wanted, Alexis was never crazy about the idea of singing in front of a computer. "I was like, Mom, this is so not cool!" remembers Alexis. "Kids don't sing in front of cameras, it's weird. It didn't feel natural at all! But after I did it for a little while I thought it was fun." In September of 2008, her most popular videos were racking up over a million views apiece. At that time, the multi-platinum, award winning, production and writing team Stargate contacted Alexis. The hit makers responsible for # 1 hits such as Rihanna's "Take A Bow" and Ne-Yo's "Miss Independent," who entered into a partnership with Roc Nation forming Star Roc, made arrangements to fly the multi-talented singer out to New York for a meeting and recording session. "I thought if they didn't love me then they wouldn't fly me all the way out to New York," says Alexis. "I knew I had a good chance. Once I got out there we recorded a few songs and JAY-Z came to the studio. I was so excited! And the next thing I knew I was signed to StarRoc/Roc Nation."
Now that Alexis has had the chance to work with some of the industry's most sought after hit makers, she is getting ready to release her debut album which is a universal collection of songs that not only displays her tremendous voice, but also conveys the constructive message she feels is missing in mainstream music today.
On the LP's first single "Happiness" Alexis belts out a beautiful song about self-joy and empowerment over Stargate's up-tempo track that will have listeners immediately singing along. "Good Girl" showcases Alexis sassy side as she sings, "I can be a good girl, but I've been bad before," in between the upbeat, bouncing track where Alexis flexes her wide ranging and powerful vocal capability. Then on "How You Like Me Now," Alexis struts her stuff and let's us know that success is always within her reach and that she is better than ever.
"I want to be really positive, no cussing, none of that," says Alexis. "I'm a young artist and I want to be a roll model. A lot of songs are upbeat, and some are ballads. There's a little bit of that country vibe in it, a little bit of that reggae vibe. My album really has everything"
With a debut as diverse as her own background, Alexis Jordan will not only impress each and every person who listens to her album, but she also hopes to inspire them as well.
"I'm bringing something fresh, something new and something positive to the world," she says. "Something that is going to leave a mark on history and music. We are going to make this international. That's my goal, it's going to spread all around the world."
http://www.alexisjordanofficial.com
http://www.myspace.com/alexisjordan