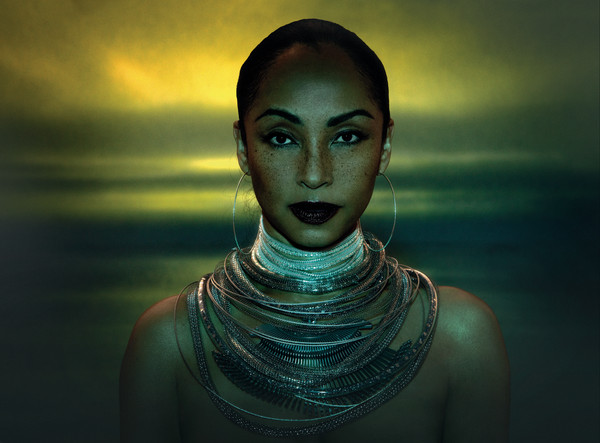 Heralded as one of this year's most highly anticipated albums and garnering much critical acclaim, SOLDIER OF LOVE secures the # 1 album spot worldwide today with over 501,000 copies sold taking its rightful place among the collection of iconic Sade albums. SOLDIER OF LOVE marks Sade's second album to land at # 1 on the Billboard chart – the first was in 1986 with Promise – and is the first official album release from Sade since 2000's multi-platinum Lovers Rock which debuted with 370,000 records sold.
Not only has America welcomed Sade back with open arms after close to ten years, but worldwide, SOLDIER OF LOVE has proven to be a smash. The album is currently # 1 in ten additional countries including Canada, Switzerland, France, Italy, Dubai, Poland, Greece, Japan, Portugal and Spain.
Entertainment Weekly featured SOLDIER OF LOVE in their "Must List" and gave the album an "A", Rolling Stone wrote, "it's unimpeachably excellent," and The Boston Globe calls it, "a rich and rewarding album." But the accolades don't stop there. Associated Press raved, "like a long-ago lover not quite forgotten, Sade has returned to steal our hearts with more beautiful, uncategorizable music," Billboard was quoted as saying, "it's been 10 years since Sade released an album, but be forewarned – the giant has awoken," while People Magazine reminds us that "Sade remains the voice of comfort to the wounded heart."
The accomplishments of SOLDIER OF LOVE so far are astounding. The single, "Soldier of Love" – which Sade co-produced with Mike Pela, and was written by Sade along with longtime collaborators Andrew Hale, Stuart Matthewman and Paul Spencer Denman continues to make radio history. In less than four weeks "Soldier of Love" propelled into the top five at both Urban Hot AC and Smooth Jazz radio charts, making it one of the fastest moving records of the year. The track has held the #1 spot at Urban Hot AC radio for four weeks straight and topped the Smooth Jazz chart for 2 weeks. Sade is now the first group since the Isley Brothers in 2001 to earn a #1 spot as a lead act on the R&B Chart. The intriguing and seductive video, which Sophie Muller directed, is currently the # 1 most played video this month.
Sade kicked off a phenomenal TV campaign last week with appearances on BET's 106 & Park, The Today Show, Letterman, and The View. Performances on both Jimmy Kimmel and Ellen Degeneres air this week.
Upon pre-order release at iTunes, the album immediately shot to # 1 where it still remains.
Known for their one of a kind timeless sound, Sade has enjoyed phenomenal success both internationally and stateside throughout the span of their twenty-five year career. Since the release of their debut album, Diamond Life in 1984 the band has seen all five of their studio albums land in the Top 10 on Billboard's Top 200 Album Chart selling a total of more than 50 million albums worldwide to date. They've been nominated for American Music Awards, MTV Video Music Awards and have won three Grammy Awards – first in 1986 for Best New Artist, then in 1994 for Best R&B Performance By A Duo Or Group for "No Ordinary Love", and again in 2002 for Best Pop Vocal Album with Lovers Rock.
SOURCE Epic Records