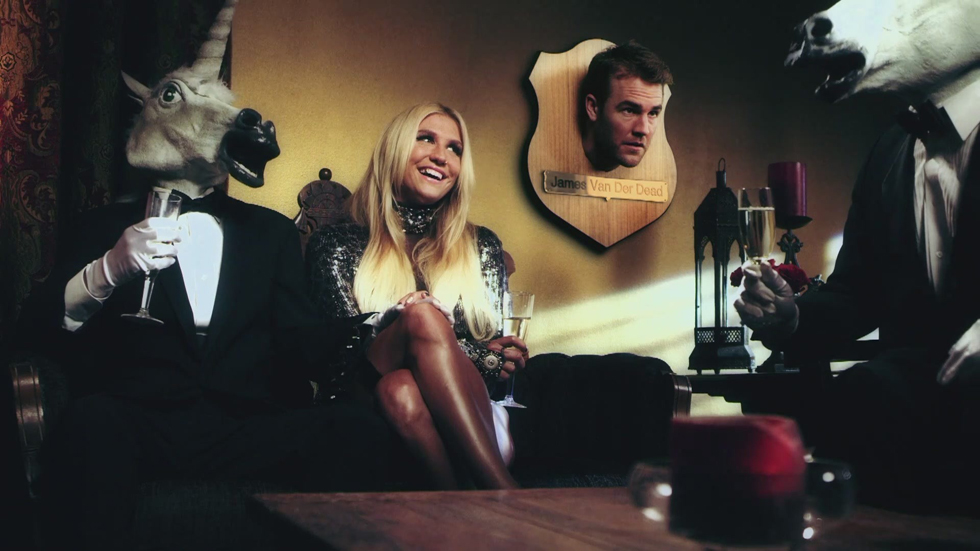 Continuing her world domination as an international power house, global superstar Ke$ha announced today that she is getting even $leazier and, by popular demand, will add a summer leg to her "Get $leazy" worldwide tour.
After selling out the first leg of this tour in minutes, Ke$ha hits the road again this summer, with the new dates kicking off in Harrington, DE on July 26th and wrapping on September 20th in Phoenix, AZ. LMFAO and Spank Rock will join Ke$ha on the road in most North American markets. Tickets will be available for sale starting on April 8th at livenation.com. Members of The Family, Ke$ha's new official fan club, will have access to presale tickets and upgraded memberships with Meet & Greets beginning Tuesday, April 5th at 3pm local time. For more information about becoming a member of The
Family visit www.keshasfamily.com.
Ke$ha, who is touring in support of her recent release of her remix album I Am The Dance Commander + I Command You To Dance (RCA Records/Kemosabe Entertainment) as well as Cannibal, the companion to her platinum selling debut album Animal, will be stopping in more than 30 North American cities for leg 2 of the "Get $leazy" tour.
Says Ke$ha, "My spring tour sold out so fast, which is amazing, but I want to get to party with errryone. If you are part of my family, my cult of rowdy misfits – come join us!!!! So I'm pulling out an ass-ton more glitter with blue lipstick to spare and I'm ready to party with all y'all all summer long. Shit's gonna be hot as a mofo. Get ready to take it off, go animal and get $leazy! Pimping across America with SPANK ROCK and LMFAO. Miss this and you be missing the biggest dance party of the year!!!!"
The "Get $leazy" tour has been met by rave reviews, Spin.com called it "good, sleazy fun" and local reviews have exclaimed that "Ke$ha's live show is basically the best thing ever" and declared that "…Ke$ha is an idol because she's fun, fearless and doesn't take shit from anyone.
Declared Billboard's Hot 100 Artist of 2010 and with her song "TiK ToK" being the most played song of 2010 as well as the biggest-selling digital track in the world, Ke$ha's world domination continues in 2011. Her current smash single "Blow" just crashed into the Top 10 at Top 40 radio, making it her 6th consecutive Top 10 hit.
2010 was an incredible year for Ke$ha. In addition to her aforementioned accolades, her smash debut single "TiK ToK" was also named Billboard's #1 Hot 100 Song for 2010. Ke$ha has had three #1 songs on the Billboard Hot 100 chart ("TiK ToK", "Your Love Is My Drug" and "We R Who We R"). Her debut album Animal has already been certified platinum and sold over 2 million units worldwide. She took home the MTV EMA for Best New Act in November and she was nominated for two American Music Awards, an MMVA and three MTV VMA Awards. She has sold 18 million combined tracks and ringtones in the U.S alone and 23 million worldwide to date. Her smash breakthrough single "TiK ToK" has sold over 8.5 million combined units alone. The IFPI announced that "TiK ToK is biggest-selling digital track in the world in 2010 with 12.8 million copies of the song sold in digital stores. Ke$ha is an international powerhouse, Animal has been certified Gold or Platinum or multi-Platinum in seven markets and is the biggest selling debut album from an international female in 2010 in the UK.
DATE              LOCATION                   VENUE                           ON SALE
June 23 &24     Glastonbury, UK           Glastonbury Festival       on sale now
July 1st              Belgium                        Rock Werchter             Festival on sale now
July 6th              Sweden                        PIP Festival Sweden    on sale now
July 9th              Scotland                       T in the ParkFestival     on sale now
July 3rd              Birmingham, UK           Birmingham Academy    Apr 08
July 11th            Manchester, UK             Manchester Apollo       Apr 08
July 13th            London, UK                  Hammersmith Apollo    Apr 08
July 26th            Harrington, DE              Delaware State Fair      TBA
July 28th            Columbus, OH              Ohio State Fair             TBA
July 30th            Duluth, GA                   Gwinnet Center             Apr 09
July 31st            Nashville, TN                Municipal Auditorium     TBA
August 2nd         Houston, TX                Cynthia Woods Mitchell Pavilion      TBA
August 3rd         Austin, TX                    Cedar Park Center         Apr 08
August 4th         Dallas, TX                    Gexa Energy Pavilion    Apr 08
August 7th         Miami, Fl                       Bayfront Park Amphitheatre           TBA
August 9th Raleigh, NC                  Raleigh Amphitheatre     TBA
August 10th       Charlotte, NC                Time Warner Cable Uptown Amphitheatre           TBA
August 12th       Uncasville, CT              Mohegan Sun Arena      TBA
August 13th       St-Jean Sur -Richelieu, QC   Hot Air Balloon Festival        TBA
August 14th       Toronto, ON                 Molson Amphitheatre                     TBA
August 16th       Boston, MA                  Bank of America Pavilion               Apr 09
August 17th       Philadelphia, PA            Festival Pier at Penns Landing     Apr 08
August 20th        Wantagh, NY               Nikon at Jones Beach Theatre     TBA
August 21st       Washington, DC            Patriot Center               Apr 08
August 23rd       Indianapolis, IN            Lawn at White River State Park    Apr 08
August 24th       Chicago, IL                   Charter One Pavilion     TBA
August 26th       Detroit, MI                    DTE Amphitheatre         TBA
August 30th       St. Paul, MN                 Roy Wilkins Aud.           TBA
August 31st       Council Bluffs, IA          Mid America Rec Center    Apr 09
Sept 2nd            Kansas City, MO          Starlight Theatre           Apr 09
Sept 3rd Denver, CO                  1st Bank Theatre            Apr 09
Sept 6th Calgary, AB                  Saddledome                  Apr 08
Sept 7th             Edmonton, AB             Rexall Place                  Apr 08
Sept 9th             Vancouver, BC             Rogers Arena               Apr 08
Sept10th            Seattle, WA                  WaMu Theatre              Apr 09
Sept 11th           Portland, OR                Theatre at Rose Garden   Apr 09
Sept 14th           San Francisco, CA       Bill Graham Civic          TBA
Sept 20th           Phoenix, AZ                 Comerica Theatre         TBA